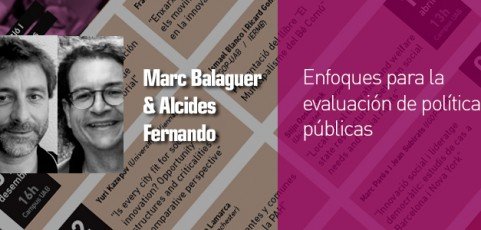 04/12/18 – 12: 00 pm – 14: 00 pm
Alcides Fernando Gussi Balaguer and Framework seminar
"Evaluation of public policies"
Edifici MRA (Campus UAB, BellaTerra)
Open seminar of SGR AGAPP – IGOP (seminar in Spanish)
12.00: "Prospects against hegemonic-in evaluation of public policies: other epistemologies, methodologies and practices".
Alcides Fernando Gussi, Anthropologist, Doctor to the State University of Campinas. Coordinator of the master in public policy evaluation, Federal University of Ceará. Editor of the Revista Brasileira de Monitoramento e Avaliação (ENDORSEMENT), Brazil.
12.30: "Approaches, methods and use of assessments of the Catalan Institute of #8217 > #8217 >;; public policy evaluation "
Marc Balaguer. Economist, Ph.d. in public policy and Social transformation of the Autonomous University of Barcelona. Director of Ivàlua, Catalunya. Member of the research group of AGAPP IGOP-UAB.
13.00: Discussion

13.30: Presentation of the initiative "Axis public policy evaluation"
"Deliberative Spaces and Public Governance Group (GEGOP-* CLACSO)", coordinated by the Federal University of Viçosa and the Institute of public policy (IGOP-UAB).
Moderator: Carolina Muñoz Mendoza, IGOP.